Sohail Khan The Golden Boy of Madhya Pradesh continues to shine in the world of Kudo
Sohail Khan, a remarkable athlete hailing from Madhya Pradesh, continues to make waves in the world of Kudo. His recent victory in the 8th Madhya Pradesh Kudo state tournament is nothing short of spectacular, as he clinched yet another golden medal. This achievement not only adds to his already impressive collection but also solidifies his […]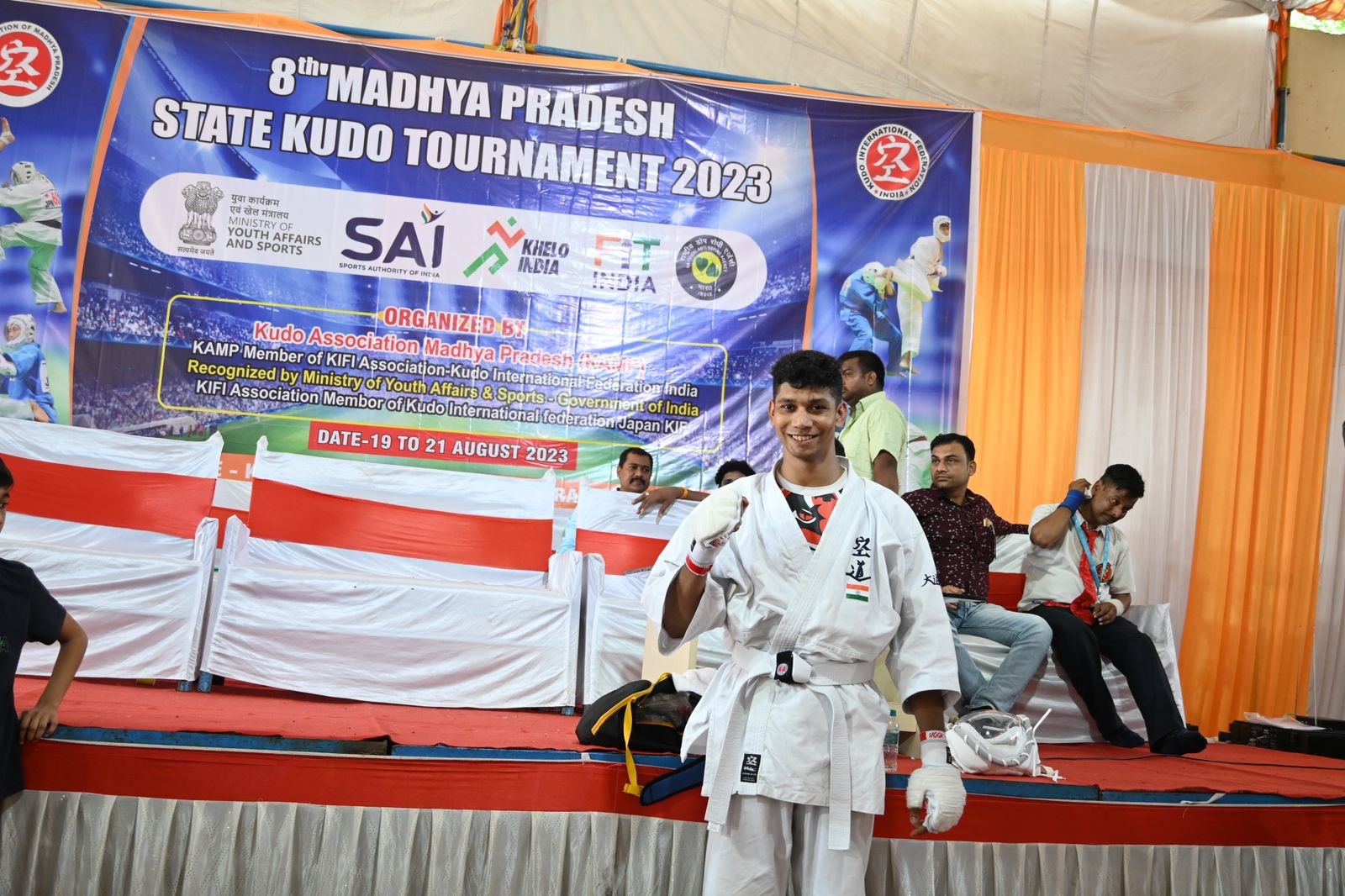 Sohail Khan The Golden Boy of Madhya Pradesh continues to shine in the world of Kudo
Sohail Khan, a remarkable athlete hailing from Madhya Pradesh, continues to make waves in the world of Kudo. His recent victory in the 8th Madhya Pradesh Kudo state tournament is nothing short of spectacular, as he clinched yet another golden medal. This achievement not only adds to his already impressive collection but also solidifies his status as a dominant force in the sport.
Sohail's exceptional performance in the tournament earned him a well-deserved spot to represent Team Madhya Pradesh in the highly anticipated 14th Kudo National Tournament, which is set to take place in Surat, Gujarat in 2023. This achievement speaks volumes about his dedication, skill, and consistent excellence in the Kudo arena.
Sohail Khan's journey to success has been marked by numerous milestones. With an astonishing record of 15 national titles to his name, he has proven time and again his prowess and mastery of the sport. However, his achievements don't stop there. In the 2017 Kudo World Cup, he attained the prestigious title of world champion, demonstrating his unparalleled capabilities on an international stage. Notably, in a memorable match against France, he secured an impressive victory with a score of 8-0.
Recently, Sohail had the honor of representing India at the Kudo World Championship held in Tokyo, Japan. Despite facing tough competition from some of the best fighters in the world, Sohail's performance was nothing short of awe-inspiring. Making it to the quarter-finals was a significant accomplishment, and his battle against the silver medallist, Vilius Tarasevicius from Lithuania, was particularly gripping. Throughout the bout, Sohail Khan showcased his exceptional talent, dominating the fight and leaving a lasting impression on spectators.
While the outcome was a narrow loss to Tarasevicius by a small margin, Sohail Khan's valiant effort and resilience echoed loudly. His performance not only showcased his existing skills but also highlighted his tremendous potential as one of the standout fighters on the Indian national team. His tenacity, determination, and remarkable abilities make him a promising contender to become a future superstar, not only in the world of Kudo but also as a source of pride for India. Sohail Khan's journey is one of dedication, hard work, and the pursuit of excellence, inspiring athletes and enthusiasts alike.