Ready, Set, Play: Schools, Athletes and Coaches, register for 2023 SFA Championships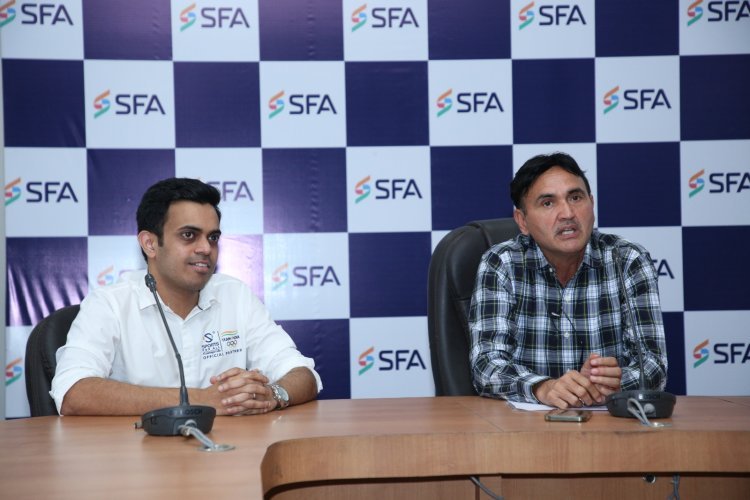 Ready, Set, Play: Schools, Athletes and Coaches, register for 2023 SFA Championships
First edition of the SFA Championships in Jaipur will kick-off from October 9th
Athletes will get to play and compete at the Sawai Mansingh stadium
Jaipur, August 22nd 2023: Sports For All (SFA), India's leading tech-enabled multi-sports competition platform, will debut the Championships in Jaipur on October 9th, 2023, at the Sawai Mansingh Stadium. Within a few days of announcing the Championships, close to 250 schools have confirmed their participation for the first edition of the Jaipur SFA Championships. From the sheer speed of Athletics to the strategic brilliance of Chess, the pink city will witness India's biggest multi-sports school-level competition at Jaipur's Sawai Man Singh Stadium, where athletes will compete across 30 sporting disciplines.
Shri. Virendar Singh Poonia, Chief Sports Officer, Rajasthan Sports Council said, "We are excited to welcome SFA Championships to our city and laud the effort to strengthen India's sporting ecosystem. This is the beginning of a journey to identify India's best school for sports and set the stage for India's future medallists, in Jaipur. There is no dearth of talent in Jaipur and these championships along with many government initiatives will provide our youth with the right platform to display their sporting talent. This unique opportunity will pave way for many more sporting legends from the pink city. We extend our support to SFA Championships in Jaipur."
Schools in Jaipur and individual athletes can now register for the 2023 debut edition of the SFA Championships on www.sfaplay.com and select the sports they want to participate in after completing age verification process. Schools, coaches, and parents should consider this as a golden opportunity for young athletes to shine on a grand stage, inspiring sportsmanship, promoting a healthy, active lifestyle and setting the stage for their journey towards excellence.
Rajas Joshi, Chief Operating Officer, Sports For All (SFA), expressed, "Combining the strengths of cutting-edge technology and captivating visual content, SFA Championships will offer young athletes an Olympic-like platform, igniting their passion for sports at a professional level. Our vision is to revolutionize school-sports in India and pave the way for the emergence of future champions. Gradually, in every city we venture into, our vision is to offer SFA Championships as the fertile ground for future medal winners. Our ultimate goal is to embody the essence of "Sports For All" - a single unifying platform that empowers champions from all walks of life, across the country."
In a first-of-its kind sporting competition the SFA Championships will come alive at the Sawai Man Singh stadium for school students, providing them with professional infrastructure and equipment, certified match officials and referees, equipped with medical stations, physiotherapists, clinics and workshops, a digitally integrated system for detailed statistics, analysis and match videography.
This year, SFA has pledged to encourage 2 Lakh athletes to play through 10 SFA Championships in a span of 4 months. Aligned with the government's vision, SFA has focused on enabling Public & Private sporting initiatives in the country since its inception in 2015. The 36th National Games, Gujarat, 2022 and Khelo India Youth Games, Haryana, 2021 were powered by the SFA's tech IP Games Management System (GMS). Additionally, in 2023, SFA signed on as the 5-year sponsor for the Khelo India Youth Games, the Madhya Pradesh edition.